E/M-Commerce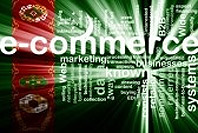 At the heart of successful e-commerce is a properly designed and developed product catalogue. But how readily users will purchase products depends to a large extent on whether the store has a simple, fast and convenient interface.

Our solutions enable customers to quickly select products, fill in details and pay on-line, so that the ordering is simple and convenient.
On request, we carry out the integration of our stores with auction systems, comparison sites, knowledge bases, and other useful systems that increase sales. Stores are equipped with modern filters, searching mechanisms, autocomplete mechanisms and product's database, products itselves in many cases we can import directly from manufacturers' systems which reduces to a minimum the time it takes to boot and start selling.
In contrast to the template solutions where the customer buying a shop is forced to accept all of its limitations, we tailor shop to customer requirements.


We adapt software to the business requirements of the Customer and the sale and promotion policies do not have to be then limited because of poorly chosen system.
We help to develope online stores to allow them to increase sales and benefit from the relationship with regular customers and partners.

By creating a convenient and automated system we give into the hands of customers

B2B sales service platform

to help drive business and significantly increase the number of orders